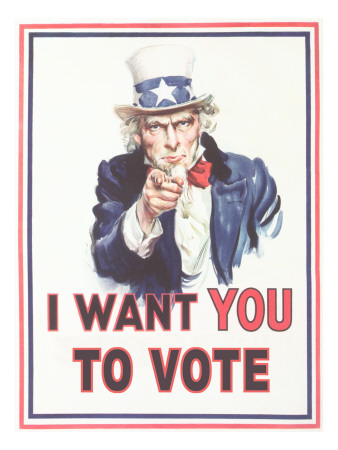 Photo courtesy of AllPosters.com
Election season is here and adding a sweet touch to the political melee are the election boxes from
Georgetown Cupcake
,
Hello Cupcake
,
Sprinkles
, and
The Sweet Lobby
! Endorse your favorite candidate by purchasing their box or remain neutral with a simple 'Vote 2012' stamp. Either way, your vote should be for cupcakes!
Georgetown Cupcake
GC is offering non-partisan and political mascots as fondant toppers. Pick-up a box in chocolate, vanilla, or red velvet.
Photo courtesy of Georgetown Cupcake
Hello Cupcake
Hello Cupcake offers political mascots on their cupcakes.
Photo courtesy of Hello Cupcake
Sprinkles
Purchase
the Obama or Romney box or get your box with political mascots. You can also get a non-partisan box with 'Vote 2012' toppers. All three will be available until November 11th.
Courtesy of Sprinkles
The Sweet Lobby
The Sweet Lobby is endorsing cupcakes and macarons in their campaign. Pick your political candidate or a simple non-partisan 'Vote 2012'.
Photo courtesy of The Sweet Lobby
Or make your own election cupcakes with these edible image toppers
Are you registered to vote?
Speaking of voting, are you registered to vote? If not please visit the bottom left panel of
The Cupcake Critic
blog where you can register to vote in your state courtesy of Rock the Vote!